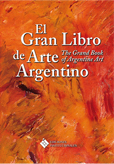 "The Big Book of Argentine Art". Written by Julio Sapollnik, 2004.
EDICIONES INSTITUCIONALES
Title: I want to dance with you.
Technique: Acrylic.
Sze: 100 x 80 cm.
Angely Martinez, has been deservedly awarded by the Miami´s Museum of Latin American Art (2004). Her work pays homage to Buenos Aires music, a melody that captivates audiences world-wide.
From all the expression possibilities painting offers to depict tango music Angely Martinez always chooses the most demanding approaches. I Wish to Dance with You portrays an orchestra performing tango music. A musician on the foreground attempts to follow the dancer steps and embraces her with his bandoneon.
Wearing a suit and typical hat, he plays seated on a chair yet tries to come closer to the lady. This female image is not one and all at the same time.
As Discepolo has pointed out, "Tango is sad feeling we dance with" Yes, painting is passion and tango is poetry.
Angely Martinez uses the whole canvas, interlacting characters and stressing their movements. This is a colorful work on which hues create different milieus, while faceted surfaces give unity and rhythm to composition.